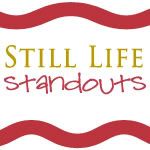 Too late! The collection was closed. Maybe next month!
It's called Still Life Standouts, and it's a challenge sponsored by three great photo bloggers: Branson of
My Reflection of Something
, Courtney of
One Mom's Perfect Imperfection
, and Courtney of
The Mommy Matters.
September's Still Life Photos are at the forefront now. My choice is a once-beautiful coneflower that now has a different kind of beauty.